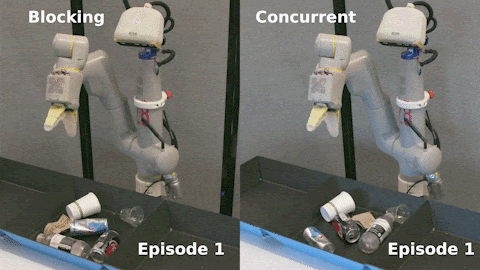 Thinking While Moving
ICLR 2020
Deep reinforcement learning in concurrent action environments, enabling significantly faster and smoother robot policies.
Thinking While Moving
ICLR 2020
This project analyzes deep continuous-time reinforcement learning in the context of concurrent action environmnts.
We introduce a new class of concurrent action deep reinforcement learning algorithms with theoretical learning guarantees.
Evaluations on simulated benchmark tasks and large-scale robotic grasping tasks show that our methods are smoother and faster by over 37%.
Presented at the International Conference on Learning Representations, 2020.